Architecture
The Ewing Manor was patterned after Channel-Norman style architecture which is mostly seen in England and France. Channel-Norman style architecture originated before the Norman Conquest of England in 1066 A.D.. The typical Channel-Normal style architecture is built with stone materials and usually has multiple towers. Also, the Ewing couple which built and owned the manor was inspired by their trip around the world, and they brought back many ideas and sketches for designing their residence. They hired Phil Hooton as their architect.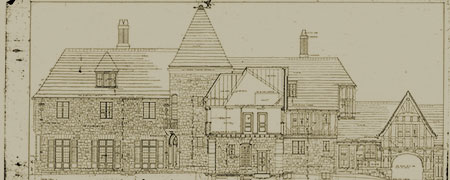 Rectangular Body
The body of the Ewing Manor is fairly long which typical of architecture built around the Norman Conquest era. This architectural feature makes it possible to place windows on both sides of the building and thus create well-lit rooms. This also makes the building appear more magnificent from the outside, and in contrast, smaller and cozier from the inside.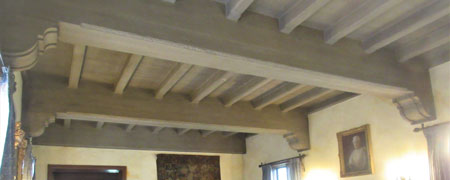 Wooden & Concrete Beams
The Ewing couple took the idea of using open timber roofs from Norman Churches. They used wooden beams for the top levels and wings of the manor, but they arranged concrete beams for the ceiling of their main living room. The use of concrete beams is rare, but the choice seems less surprising given that Davis Ewing owned a concrete company.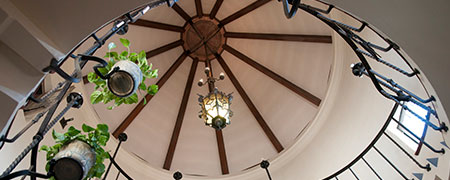 Spiral Staircases
The Ewing Manor used typical staircase design that belonged to the era of the Norman Conquest. Spiral staircases during that era are usually seen within a circular tower. These continuous spirals either crawl along the walls of the tower leaving abundant space in the center or they rotate tightly around a central newel.
Ewing Manor's west tower, which serves as the manor's main entrance, features a wide spiral staircase that rotates from the basement to the third level of the manor. Ewing Manor's east tower, which is in the stable of manor, features a tight spiral staircase. This tight spiral staircase also has architectural features of the late Gothic and early Tudor period.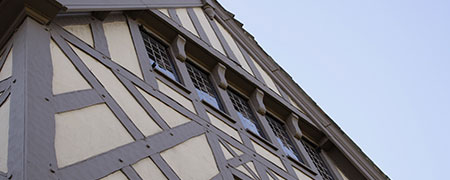 Local Material
The Ewing Manor is mainly built of limestone that the Ewing couple purchased from Joliet, Illinois and places in Wisconsin. Using local materials helps create residence structure that is compatible with its environment. The Ewing Manor also features hand-hewn timber framing made of cypress.
The Ewing couple favored a rustic style for their manor, and they achieved an ancient appearance successfully by employing various techniques. The limestone they used was delivered to the site, strewn with iron shavings, and left out in the open for the winter. The hand-hewn cypress timbers were sandblasted to achieve the weathered look. Used bricks were taken from Wochner Brewery, an abandoned local brewery, and used for building the courtyard.