Rooms
The Ewing Manor features a variety of rooms that will meet your particular needs for the setting of your event.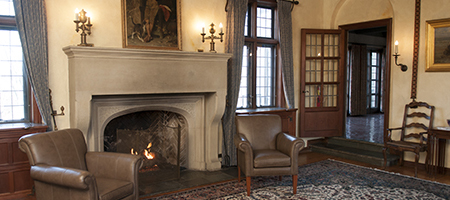 Living Room
The living room is a spacious venue suitable for hosting activities such as casual receptions, small-group conversations and seating for meals.
If you use the living room along with the library, sunroom and dining room, this combined space can accommodate up to 150 guests for a reception style event.
• Ceiling height: 15 feet
• Dimensions: 16' x 25' (200 square feet)
• Capacity: 8-30 people (hosting 30 people requires theater-style seating)
Library
The library is a small open space that is adjacent to the living room.
Use this room as an extension of the living room for receptions, small group discussions or other purposes.
Dining Room
The dining room is an medium-sized venue suitable for hosting reception buffets, small-group discussions or seating for meals.
• Ceiling height: 9 feet
• Dimensions: 15' x 18' (270 square feet)
• Capacity: seating for 10 people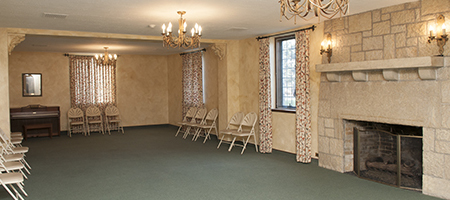 The Gold Room
The Gold Room is the largest venue available in the manor.
This room accommodates various types of seating, including U Shape, banquet style, theater style or classroom style. It is a great space for hosting meetings and formal presentations.
This room is equipped with WIFI and a conference phone.
• Ceiling height: 9 feet
• Dimensions: 16' x 40' (640 square feet)
• Capacity: 30 people — U-Shape
                40-50 people — classroom-style
                56 people — banquet-style
                90 people — theater-style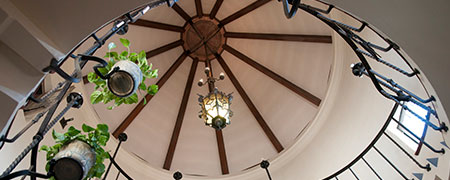 Foyer
The foyer is the hub of the main floor that connects the living room, the dining room, the sun room and the Gold Room.
It is a wonderful location to place the registration table and  receive your guests.