The Genevieve Green Gardens
Enjoy the unique sensation that each garden offers you at the Genevieve Green Gardens!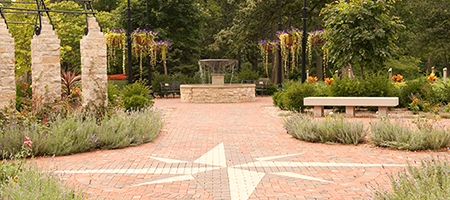 Compass Garden
The Compass Garden is a restored heirloom. The garden features a sitting area with a unique stone & iron arbor that resonates with the architecture of the manor.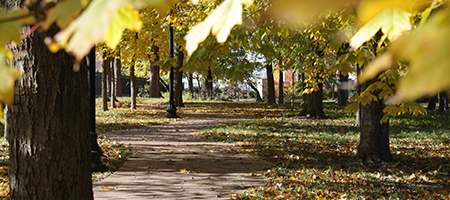 Woodland Garden
The Woodland Garden consists of a dense canopy of trees, a middle story of shrubs, and woodland wildflowers--especially low-growing bulbs such as bluebell flowers. The garden has convenient seating areas and a cobblestone pathway. A typical Jens Jensen buffer divides the public and the private spheres of the garden.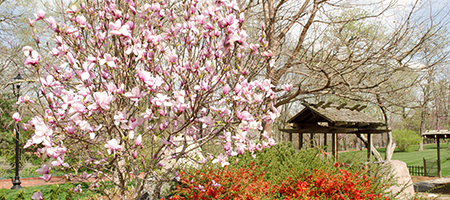 Moriyama Garden
The Moriyama Garden is an exquisite Japanese Garden. The garden was a gift from Asahikawa--Bloomington-Normal's sister city in Japan, and the Bloomington-Normal Sister Cities Committee.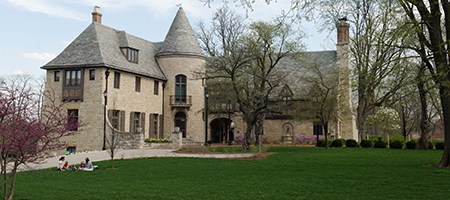 South Lawn Garden
The South Lawn Garden features a variety of flowers in bloom during all four seasons. The garden has stone pathways and sufficient lighting to assist access. It is west of Ewing Cultural Center's main entrance.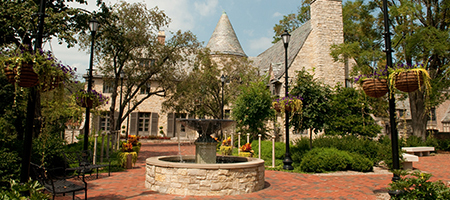 Formal Plaza
This elegant plaza leads up to the Manor's front door. The highlight of this plaza is a Jacob-style fountain surrounded by benches. The plaza is also bordered by fence posts that reflect Davis Ewing's patented design, and its material is taken from the fence that originally surrounded the Ewing property.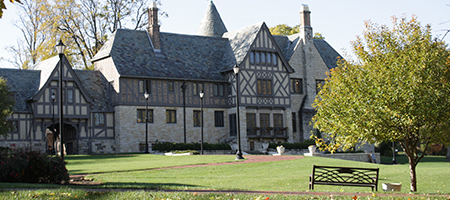 Great Lawn
The Great Lawn features wonderful landscape, brilliant flower gardens and a pathway overlooked by the Ewing Manor's north terraces.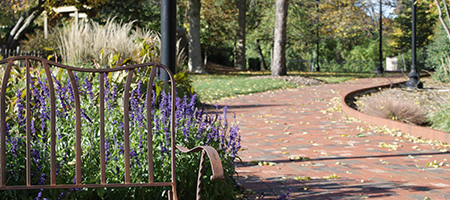 Northern Buffer
The Northern Buffer features flowering shrubs under a canopy of trees.