Family Portraits
Attentively, Hazle Buck Ewing and Lillian Brewer Buck keep watchful eyes on what is happening in the living room of Sunset Hill.  Painted in 1936 by Alfred Partridge Klots, these oil on canvas portraits were moved to the Buck family ranch in Wisconsin upon Mrs. Ewing's death in 1969.  They were returned in October 2013 by the Ewing grandchildren to once again grace their home at Sunset Hill.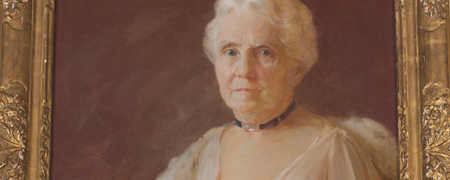 The Subjects
Painted in the living room at Sunset Hill in the summer of 1936, Hazle Buck Ewing, 56 and her mother Lillian Brewer Buck , 80, hang respectively in their original locations . Mrs. Ewing is wearing her riding outfit which is also displayed at Sunset Hill.  Mrs. Buck is wearing a period dress with a black pearl choker.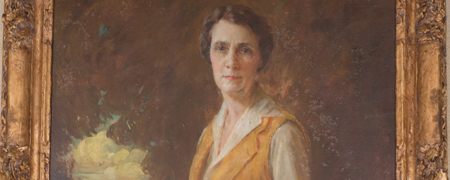 The Artist
Born in 1875 in St. Germain-en-Laye, France Alfred P. Klots was the youngest of five children of Walter and Elizabeth Underhill Brown Klots. At an early age Alfred showed a talent in art. As an adult Mr. Klots traveled yearly between his homes in Europe and the States. Known as being a famous portrait artist, Mr. Klots painted European royalty and wealthy subjects in New York and Chicago.   While swimming off the coast of Java in 1939 Mr. Klots drowned.
The Restoration
During the summer of 2012 Kenn Brinson of Bettendorf, IA was commissioned to restore the portrait of Hazle Buck Ewing and re-gild the frame.  Mr. Brinson has a MA from Bob Jones University in Studio Art Research and a BS in Secondary Art Education. After teaching art instruction for several years at the elementary school level and higher education, he is currently a Free-lance consultant and conservator.