Hazle Buck Ewing
The Ewing Cultural Center is the symbol of Hazle Buck Ewing's passion for philanthropy and pursuit of intercultural understanding. Hazle Buck Ewing was born an activist. She was passionate about environmental issues, international affairs and gender equality, and she actively engaged in planning bridle paths on the banks of Sugar Creek in the local county as well as campaigning for women's suffrage and world peace in Washington D.C..

Early Life and Family
Hazle Buck Ewing was born Lillian Hazle Buck in Cleveland, Ohio on December 25, 1880. Her formal education culminated with a Bachelor of Philosophy from the University of Chicago in 1902. Her father Orlando J. Buck was business partners with Chicago entrepreneur William Wrigley, Jr. in a chewing gum company.
Hazle married Davis Ewing on October 22, 1907. Davis ran a concrete business in Bloomington that he founded in 1899 when the demands for concrete sidewalks increased in the community. His father is James Stevenson Ewing who was the minister to Belgium during Grover Cleveland's presidency and his grandfather, John Willis (Ewing), was mayor of Bloomington in 1854. The couple resided in 1522 East Olive Street for more than 20 years in Bloomington. Davis and Hazle adopted one boy, Ralph, and raised a second boy, Nelson, who was from Victory Hall, an orphanage for boys in Normal, IL.

Life at Ewing 
The couple decided to build a residence on their 60 acre home site located north of Bloomington after they returned from their yearlong trip around the world. They named it "Sunset Hill" in honor of Jens Jenson, their landscape architect who designed the curving pathway where both sunrise and sunset could be viewed. Davis was heavily involved in the planning and construction, he did not live in the residence for long because the couple were divorced in 1931.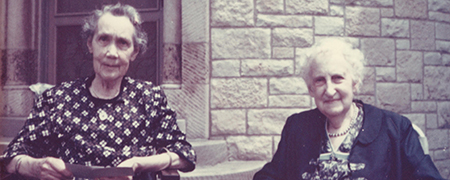 After the divorce, Hazle continued to live in the residence. Her lifelong friend Julia Hodge moved in with Hazle as her companion after returning from Paris, and they lived here together for 30 years. Hazle devoted most of her time to philanthropic causes and she entertained guests in the residence frequently. Hazle died on August 29, 1969, at the age of 88.

Philanthropic Pursuits 
Throughout her life, Hazle made great contributions to many social causes. When she returned from her yearlong trip around the world in 1925, she was determined to pursue the promotion of international friendships. Due to Hazle's philanthropic support, the School of Nations was established at Principia College in Elsah, Illinois for the development of international studies. With world peace as its goal, the college provided scholarships for international studies and funded international exchange of students, teachers, and visiting lecturers. Hazle served as a trustee of the college for many years, and she was later conferred a Doctor of Laws honorary degree.
Hazle's generous donations also helped found the School of Nursing at Illinois Wesleyan University. She helped develop Victory Hall, an orphanage for boys. She provided right-of-way to the preservation of the Funk's Grove nature tract. She also helped develop Ewing Parks I, II and III by donating park lands surrounding Sunset Hill to the City of Bloomington.

Legacy
Although Hazle Buck Ewing deceased in 1969, the community is still benefiting from her contributions. Her will bequeathed more than $1 million to social causes. Illinois State University Foundation received the Ewing Manor & its surrounding grounds, Principia College also received a generous donation.