Dutch Longcase Clock circa 1750-1775
Since 1930 this impressive clock has stood in the front entry way of Sunset Hill.  Standing 96 inches tall the case is made of Burl walnut with a brass face.  The Composite brass dial features an applied chapter ring, heavy cast applied spandrels, matted center and skillfully engraved decorations.  The hours are indicated with large roman numerals and the five minute markers are executed in an Arabic form. The maker's name and working location can be found engraved in the lower section of the chapter ring. "Gerrit Hofman, Amsterdam."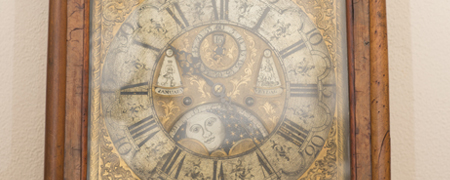 A lunar calendar and phases of the moon display is decorated with engravings.  The engraved moon is set against a deep blue painted sky illuminated by numerous painted stars. The day of the week and the zodiac symbol for that day are displayed in the middle of the dial on the right. To the left is the month of the year and the number of days in each month.
The painted scene in the dial features a view of a Dutch harbor. Numerous windmills are depicted in the background. In front of this is the automation of painted ships with Dutch flags moving side to side.
To read about how this beautiful clock came back to life, enjoy this story from Illinois State.