Facilities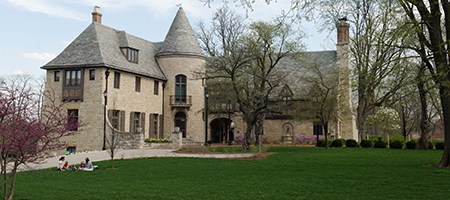 The Manor
Built by Hazle Buck Ewing and her husband, Davis, the manor stands on the estate once known as Sunset Hill. A Channel-Norman style house completed in 1929, the manor provides a gracious venue for a variety of cultural, educational, and social events.
The main level with its expansive living room, richly paneled library, sunroom, and comfortable dining room offers an elegant setting for luncheons, meetings, or social gathering. The manor's kitchen is well-equipped for caterers.
The lower level, originally a game room, is available for business meetings, retreats, lectures, and banquets. It can accommodate as many as 80 people with audience-style seating or 50 for a sit-down dinner. The courtyard and surrounding grounds provide the ideal setting for outdoor programs, weddings, or cultural events.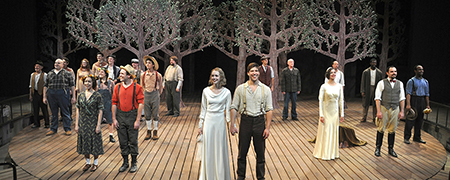 The Theatre
Situated just north of Ewing Manor, the theatre was dedicated in the summer of 2000. An open-air structure that seats 430, including persons with disabilities, the theatre reflects the architectural detailing of Ewing Manor.
The Theatre at Ewing is owned and operated by the Illinois State University Foundation and is the summer home of the Illinois Shakespeare Festival. It is also available for rental to organizations for educational and cultural presentations and performances.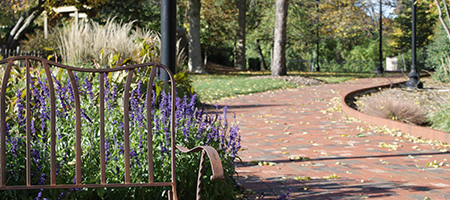 The Gardens
The Genevieve Green Gardens at Ewing Cultural Center are a place of serenity and retreat amidst the hustle of a thriving and robust Illinois community. They celebrate the seasons of Central Illinois and exhibit species native to the area. The gardens' walkways, plantings, lighting, and other amenities offer a relaxing setting for contemplation and the appreciation of nature's beauty.
There are many flowering crabs, redbuds, hawthorne, viburnum, violets, phlox, day lillies, and a middle story of flowering shrubs. The Ewing property is known for its collection of bulbs, which herald the coming of spring: snow drops, scilia, bluebells, and daffodils.
Over the years, the Cultural Center has carried on Mrs. Ewing's love of nature with the addition of new gardens, the Moriyama Japanese Garden in 1982, and the Genevieve Green Gardens in 2007.